Commercial use


in air

on the field
WingLift - Commercial Use
Across a span of commercial industries, the WingLift makes moving heavy equipment and containers simple, fast and easy. Its versatile and smart design allows for heavy loads to be moved without the hassle of forklifts, trucks or cranes. With manpower only, you can move containers and equipment within confined spaces. It can dramatically cut down overhead costs with shortened loading and unloading times, whether your industry is using air, land or sea transportation, in and out of doors. It even excels on rough uneven terrain and in extreme climates.
In addition to our WingLift W40 standard products, a wide range of tailor made solutions for both land based container handling and aircraft loading have been designed and prototyped in accordance to customer specifications, NATO and Aerospace standards.
The container lifting and transport system is a well proven product using the standard DIN 1161 ISO-corners. You can find it daily operations and in many different environments around the globe.
Lifting capacity up to 24 tons
Lifting height up to 500 mm and up to 750 mm with special request
Standard model or slim design for operating in tight places
Transport rack for easy storage and transport of the unit
Weight of each corner unit 170 to 230 kg
Total weight when delivered 850 to 1100 kg
Choice of pneumatic or solid wheels
Maximum towing speed on flat surfaces, with pneumatic wheels is up to 12 tons- 12 Km/h. Over 12 tons and with all use of solid tiers- 6 Km/h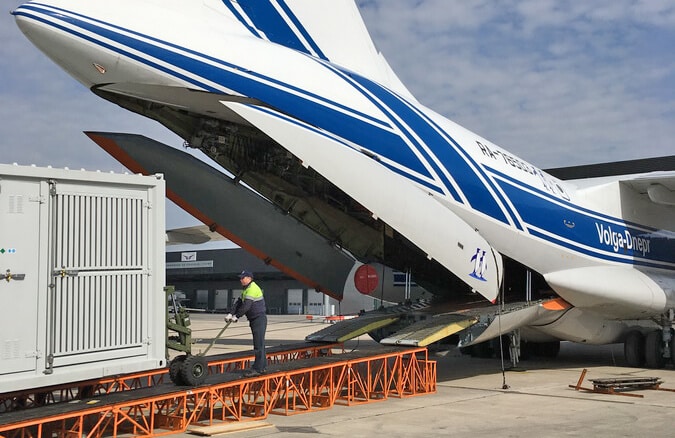 Volga-Dnepr Airlines has transported two power generators to Port Harcourt, Nigeria, with the help of a new 'wing lift' system that reduces the loading time for large containers to less than 30 minutes.
Read More »
A fully functioning logistics service is critical for Armed Forces units to complete their missions, making the role of Armed Forces Logistics, (FMLOG), one of the utmost importance.
Read More »
GV Gold, a gold mining operation in the Irkutsk region of Russia was looking to expand by opening the third mine. But getting power to a remote location in Siberia is no walk in the tundra.
Read More »
Any questions about WingLift?
Contact us for further assistance
WingLift™ is a patented short distance heavy transport system made by Recotech Industries in Sweden. We at Recotech look forward to lightening your load and empowering you to make heavy lifting and short cargo transport simple, fast and easy. The Wing Lift™ offers extreme maneuverability in any direction when moving heavy containers- and without the aid of forklifts, cranes or trucks. Compared with alternative transport solutions, WingLift™ offers excellent Total Cost of Ownership (TCO).
 WingLift™ – Produced by Recotech – Approved supplier to Pentagon, NATO and UNPrivacy Policy